Experience our Hotel Renovation
Get ready for an all-new side of Sheraton Tucson Hotel & Suites. With guest rooms complete, guests can enjoy an all new experience during their stay in addition to a fresh new lobby, meeting space, corridors, fitness center, and restaurant coming in 2018.
Innovative Rooms Renovation
Each of our 216 guest rooms and suites have been refreshed and redesigned to incorporate modern and colorful furnishings.
Traditional rooms have received a bright and comfortable refresh to make any type of stay enjoyable.
Spacious suites have been reconfigured so you can relax on the sectional sofa or workspace while enjoying your stay, or retire to the bedroom area with a separate television.
We've also fully renovated all of our guest bathrooms incorporating LED lit mirrors, so you can get ready to take on the day with ease.
Be one of the first to enjoy our new rooms!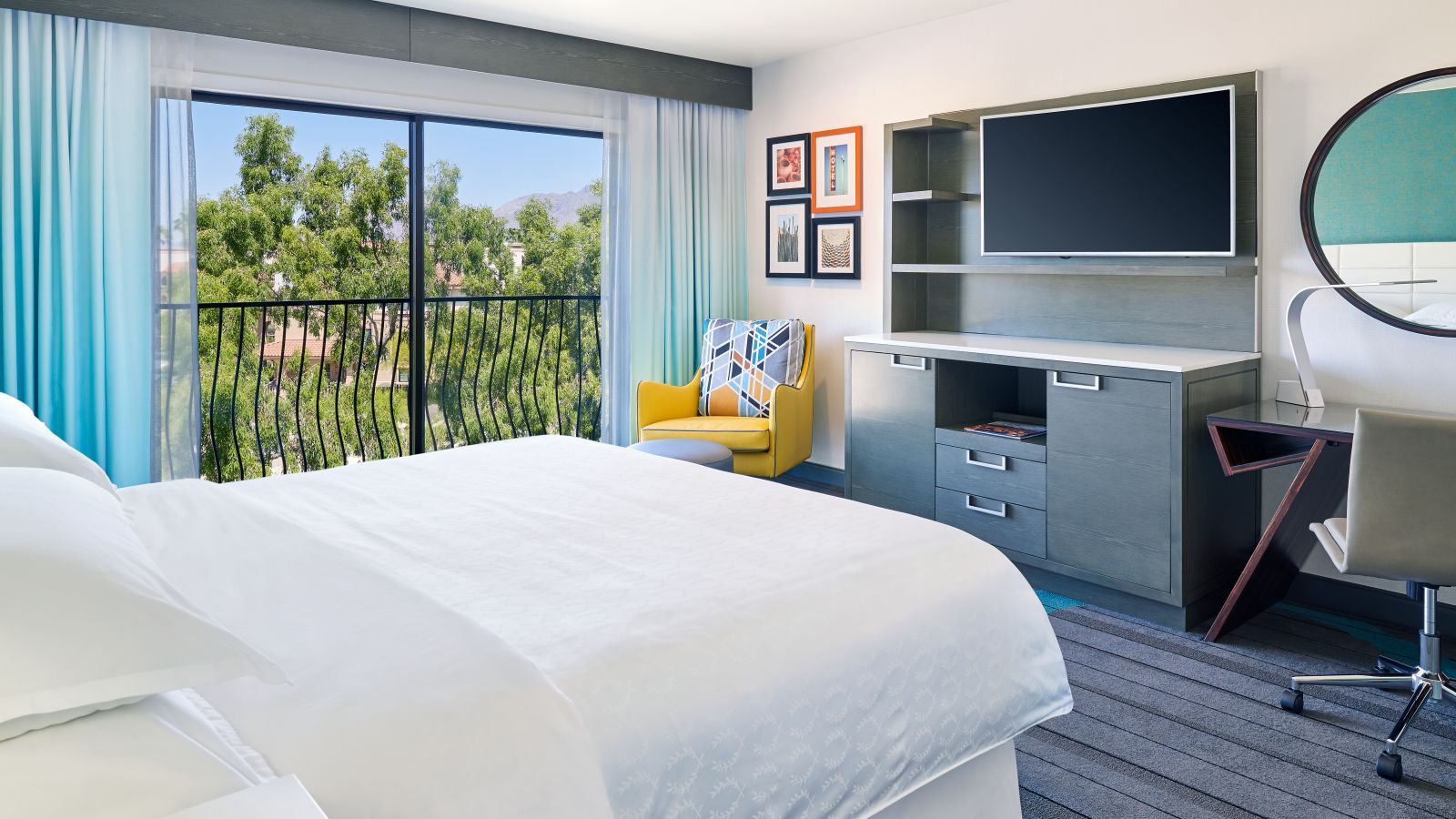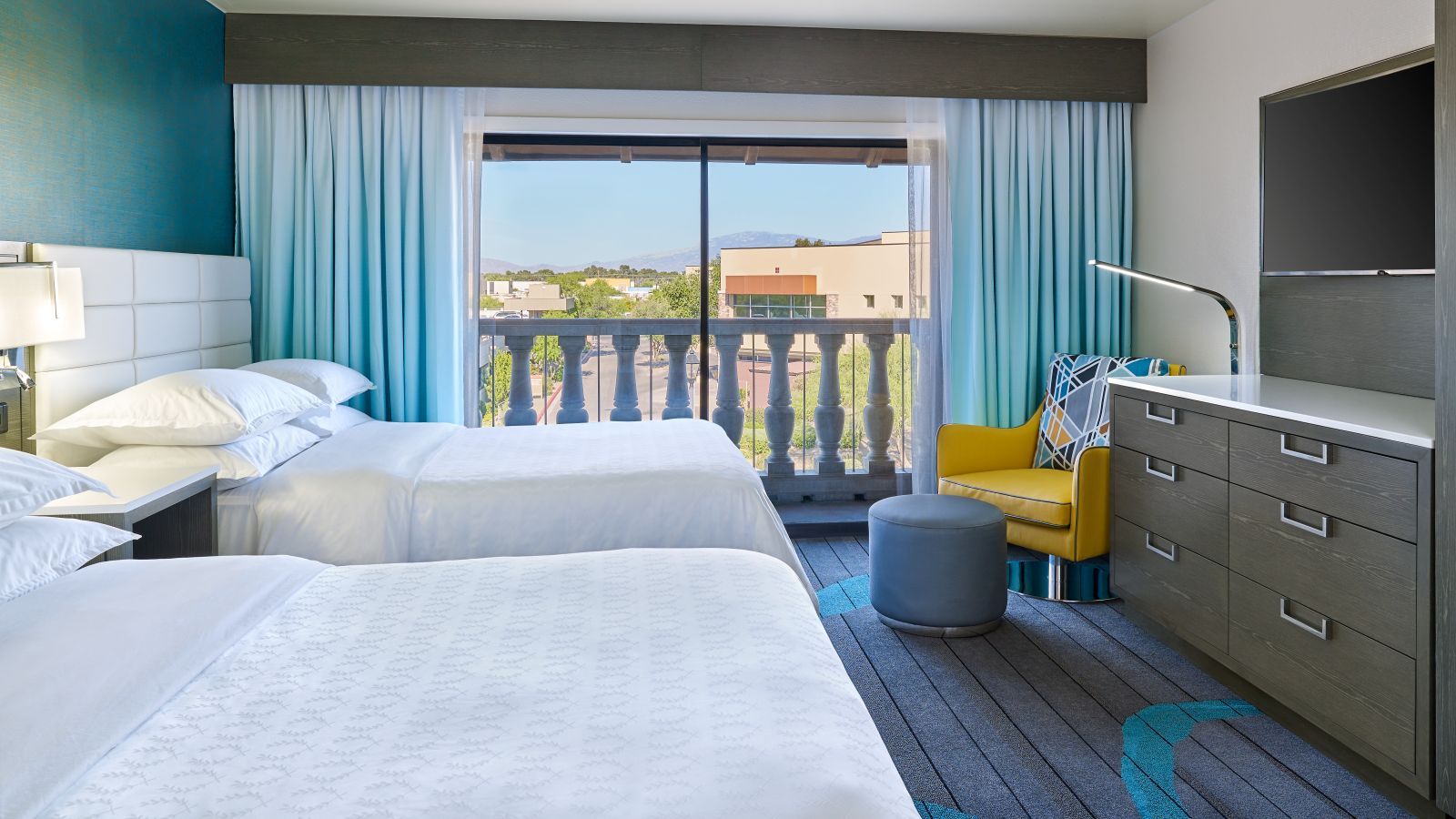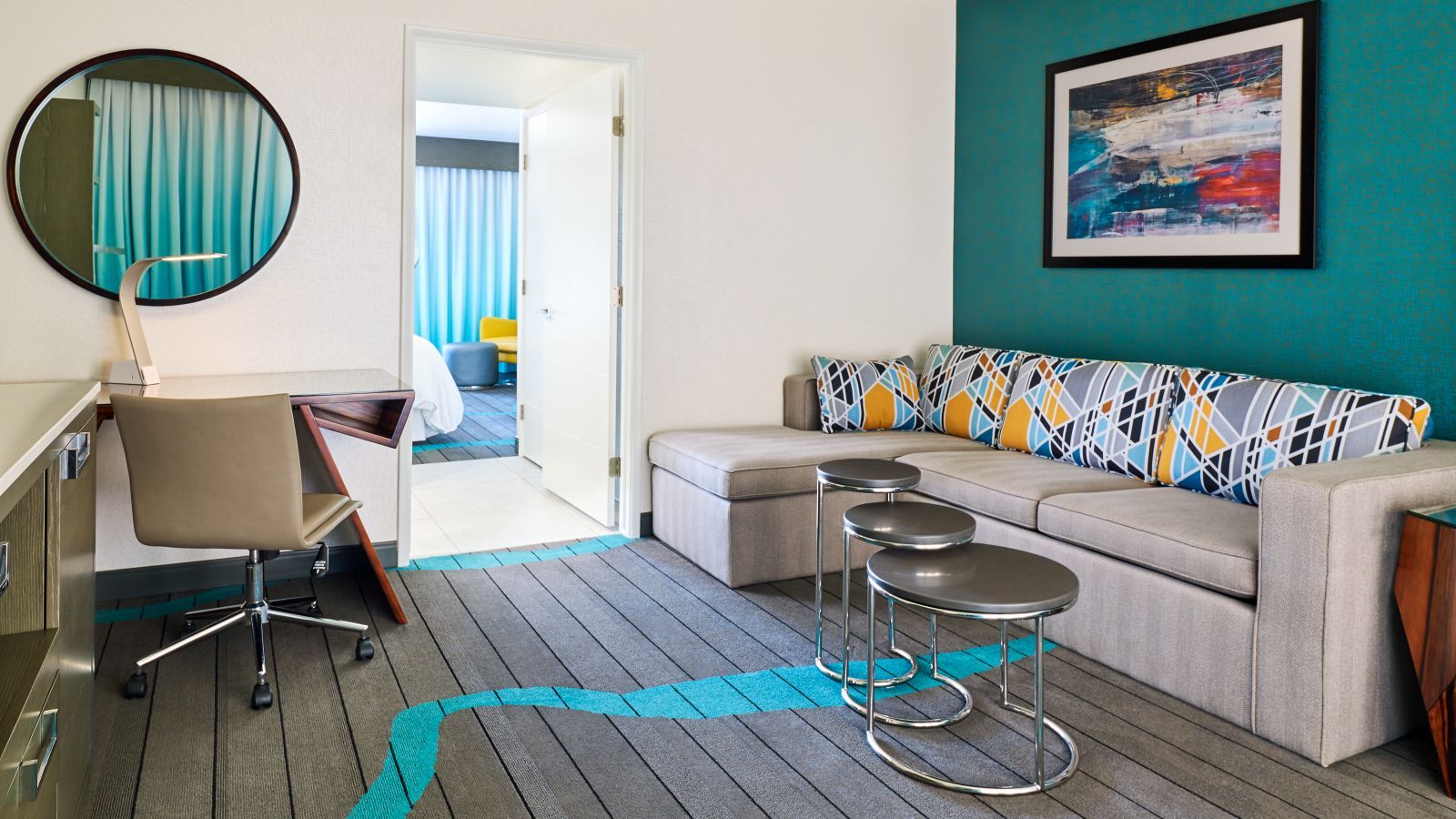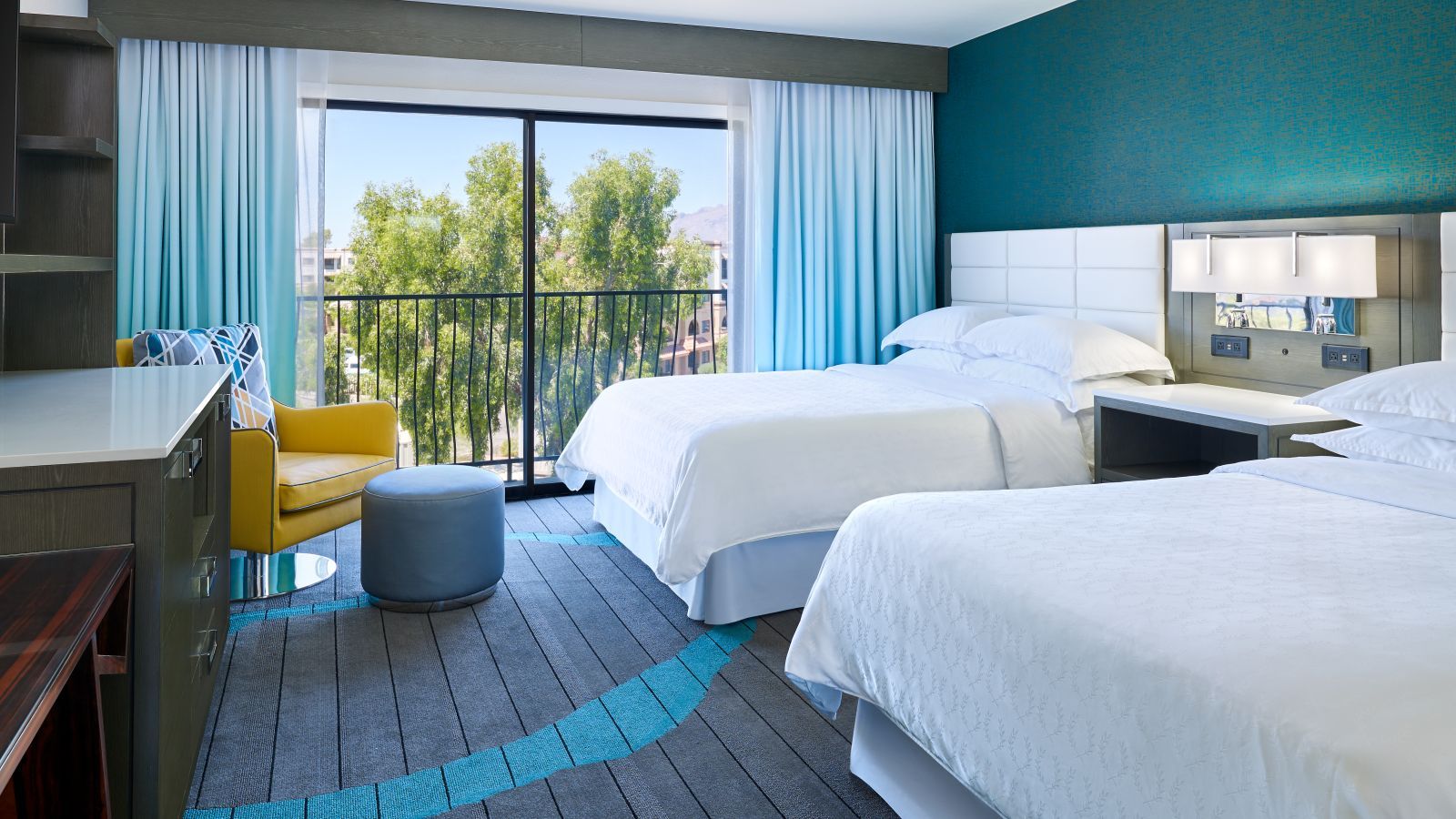 Enlivening Lobby & Lounge
From an exciting new sculpture to additional work tables, our lobby will greet you with an awe-inspiring welcome.
Tables and seating areas will incorporate USB plugs for more flexible access for work or play throughout the lobby.
A geometric tree sculpture and vibrant carpeting and textures will brighten the space and create a warm greeting for your stay.
The hotel's lounge area will feature new seating for a comfortable place to meet with friends or relax in the evening.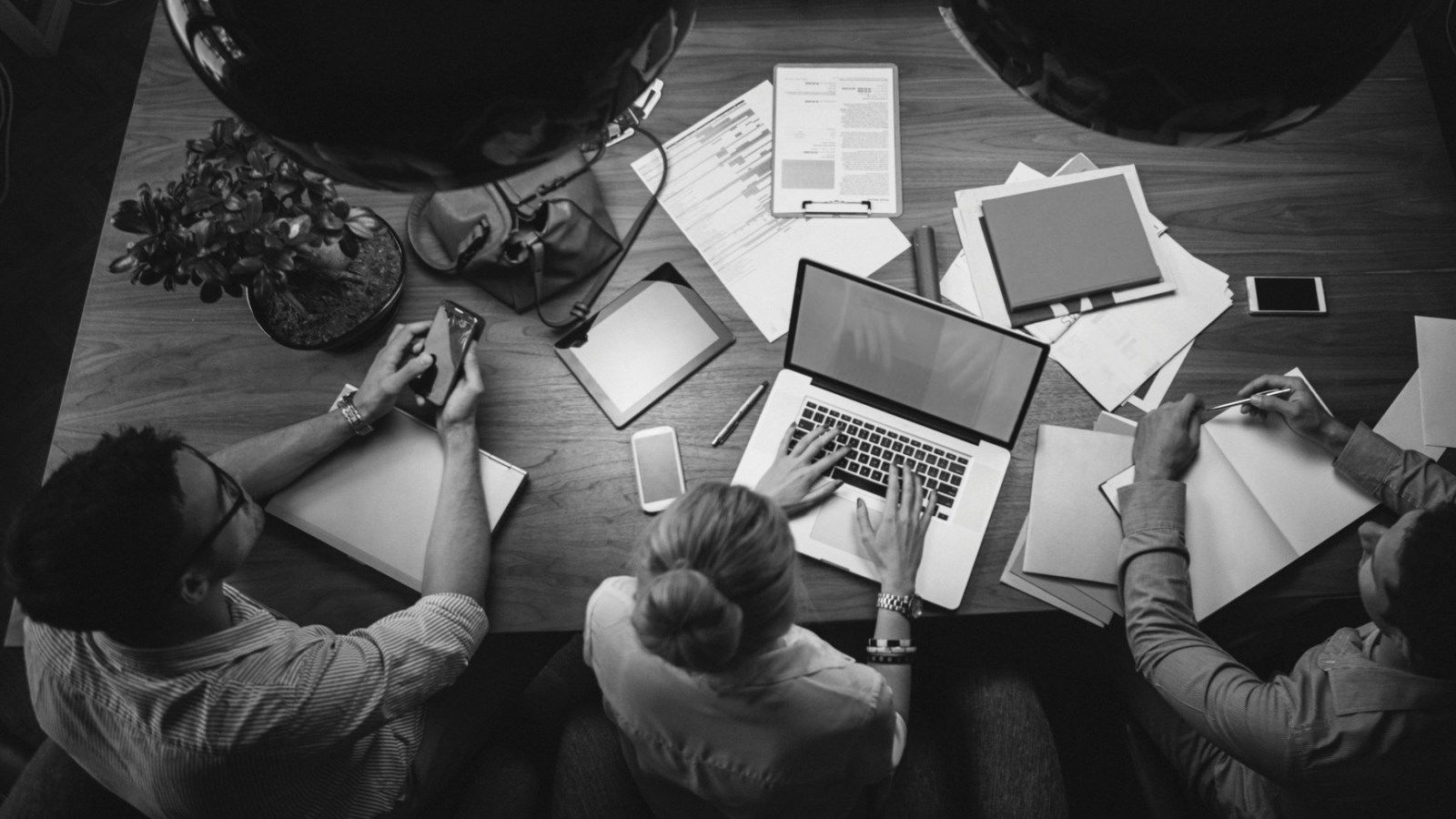 Meeting Venue Upgrade
Boasting an exciting new palette of professional blues and rich metallics, our meeting space design allows for a variety of textures, patterns and color palettes.
Meet with ease in over 14,000 square feet of soon to be renovated meeting space, including our refreshed ballrooms and Executive Boardroom. We've also equipped our space with enhanced Wi- Fi, so meeting attendees can enjoy a fast connection while at our hotel.
Recently completed, enjoy our fresh new wallpaper in all function rooms, and beautiful new tile in our Sabino Foyer.
Delightful New Dining Space
Announcing an exciting new adventure in our restaurant space...

Now open, Tucson's newest dining spot for mouthwatering dishes and creative drinks - the Glowbal - offers hotel guests and local residents an exclusive setting with modern décor in an intimate atmosphere. The Glowbal encompasses the fusion of international cuisine while highlighting the bold flavors and ingredients of North American countries from Canada to Cuba.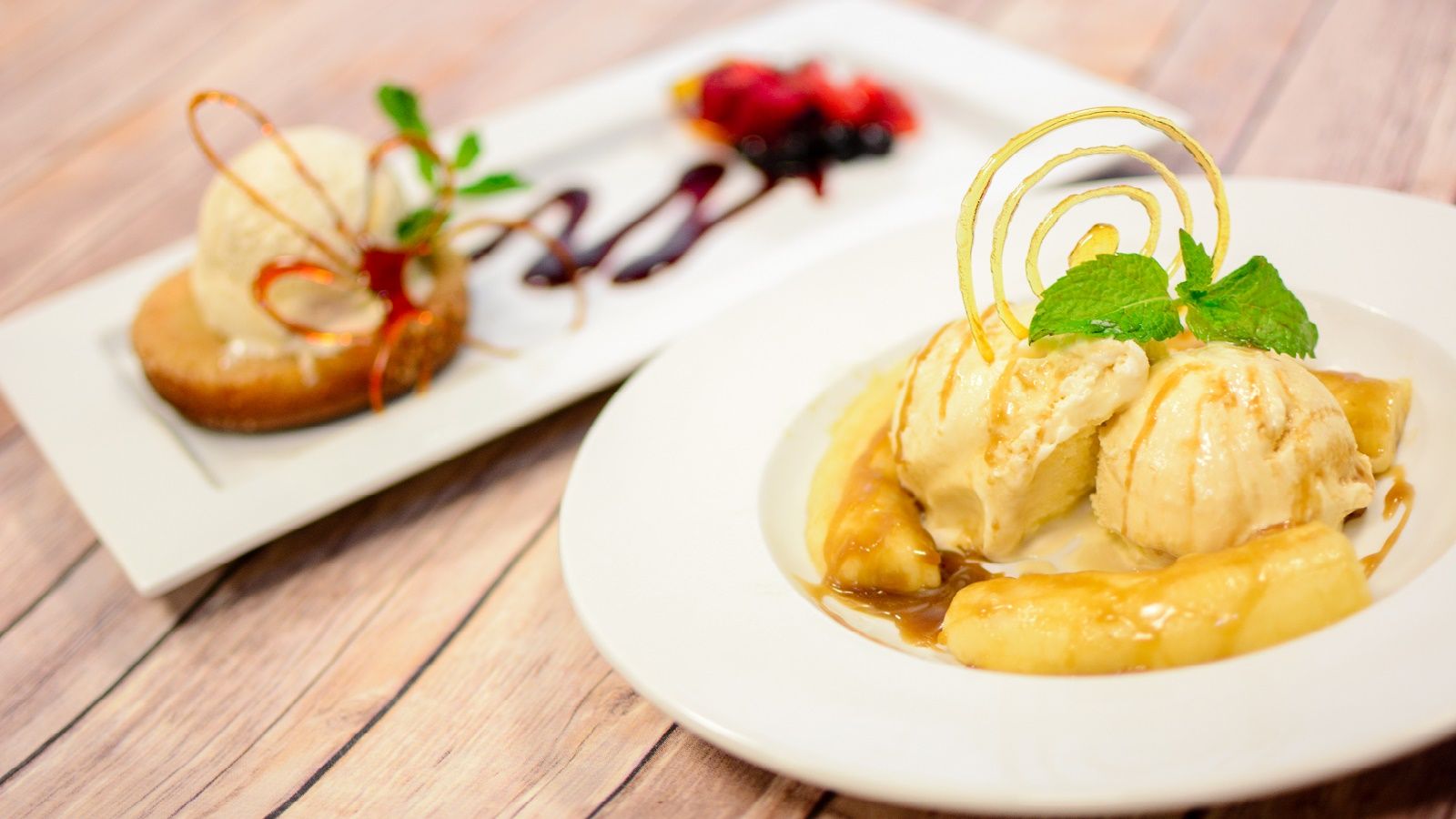 Exciting New Fitness Center Coming Soon
Enjoy staying fit while you travel with our all new Fitness Center. Offering over 1600 square feet of space for treadmills, ellipticals, bikes, and free weights, our new hotel fitness center will also boast an exciting new Yoga and Zen area - ideal for guest who just need space for fitness outside the traditional gym equipment.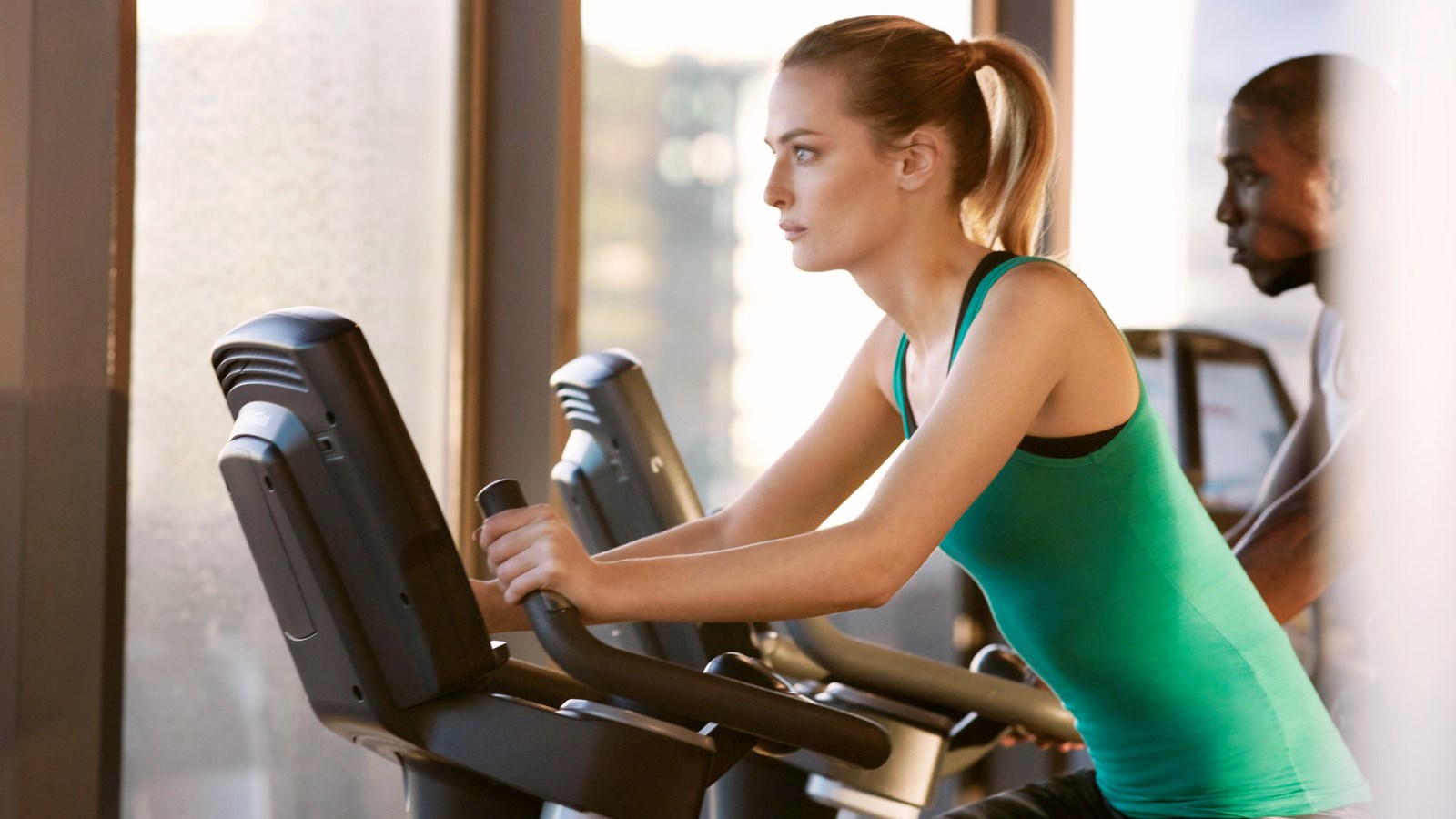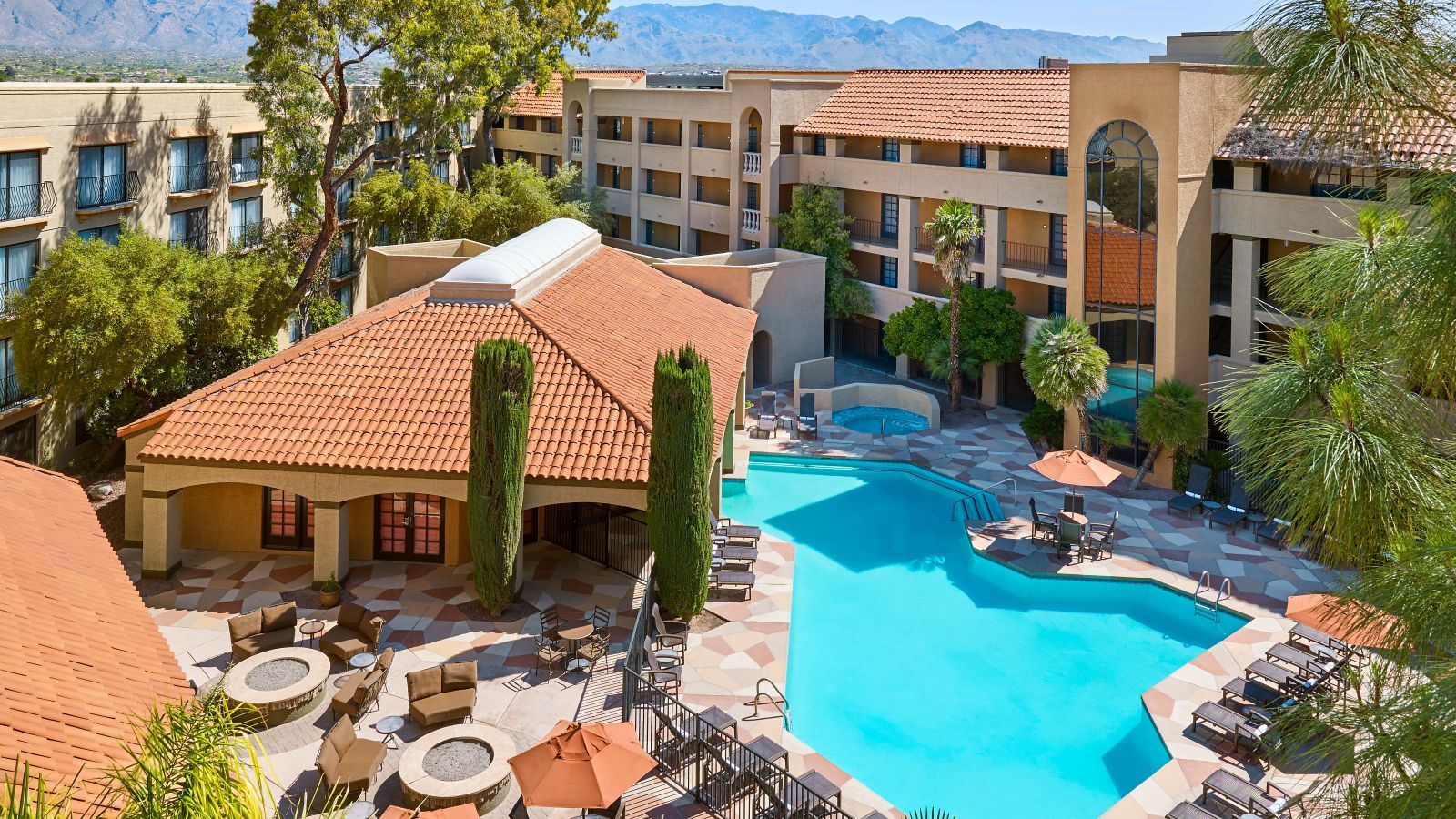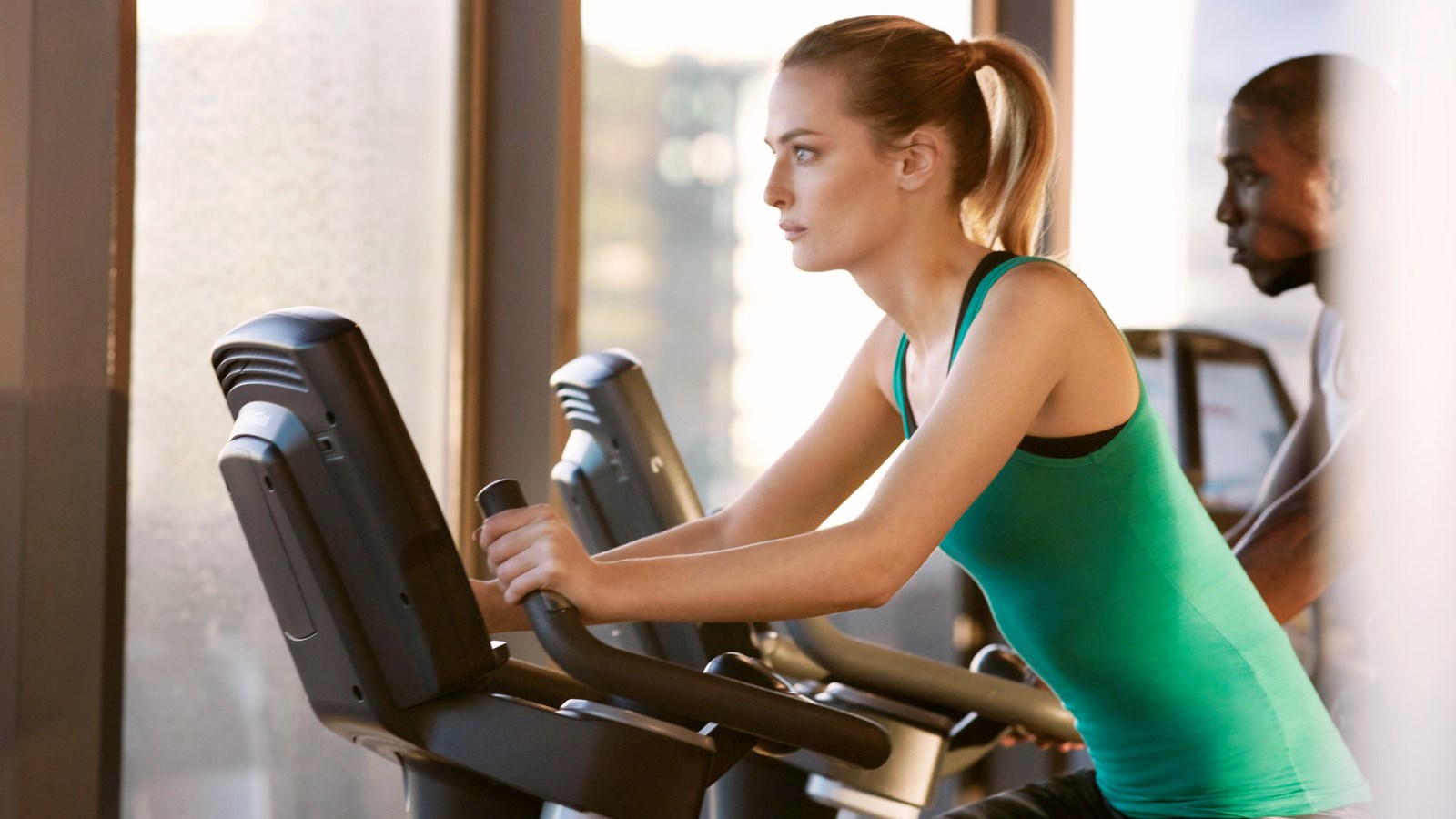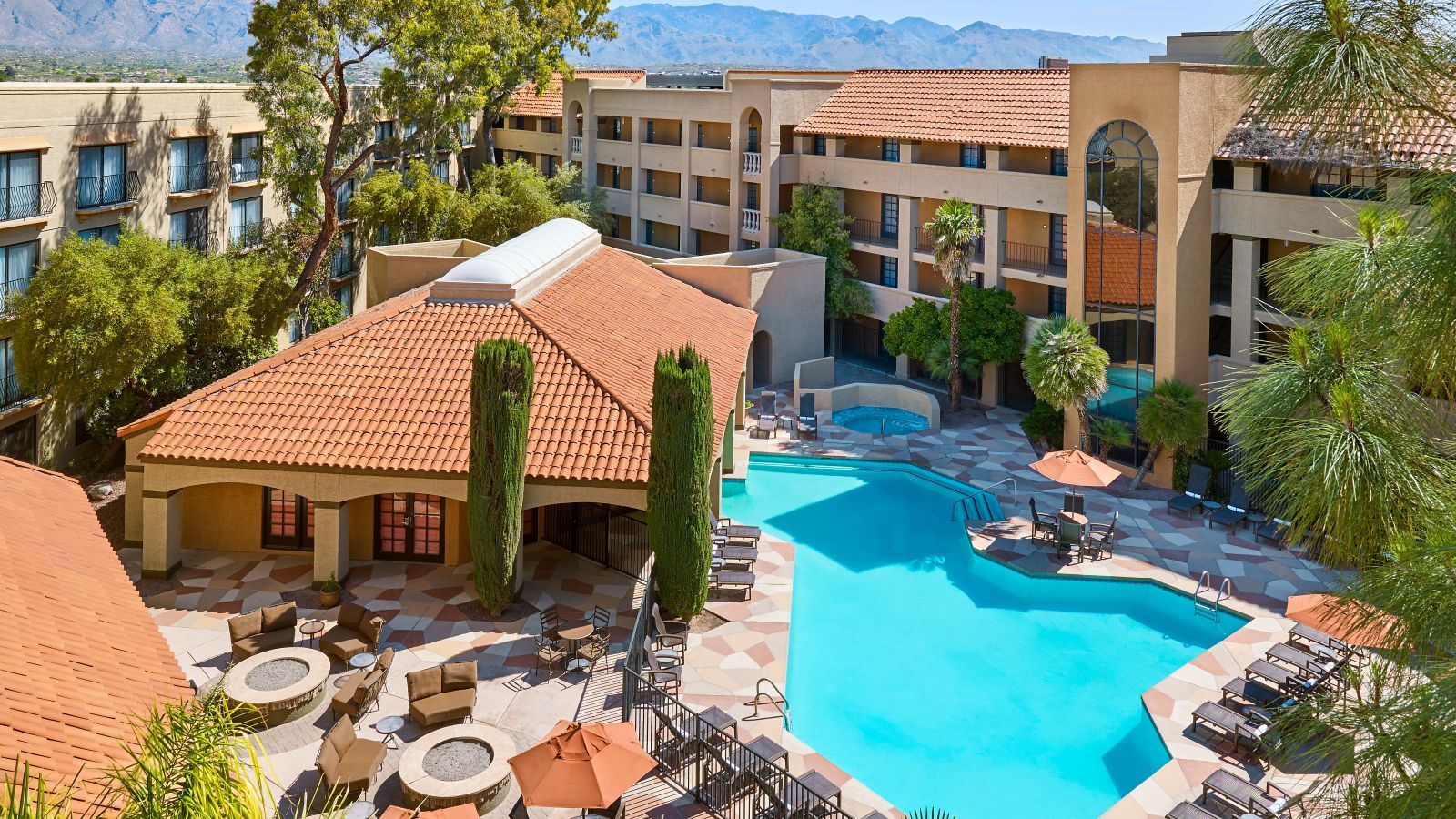 Renovation Timeline
Guest rooms, Function Rooms, and our new restaurant are complete and ready for your stay.
Fitness Center, Club Lounge and lobby renovations to be completed in 2018.
Check back here for the latest updates.